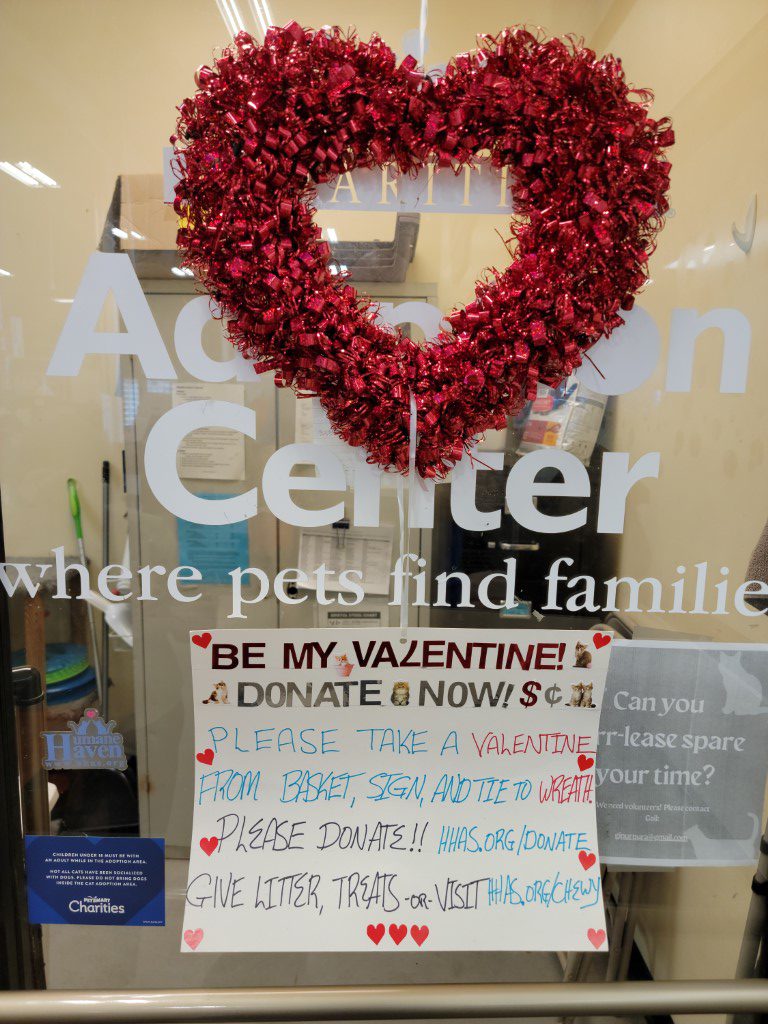 For this week (Monday 2/13) and next week (Monday 2/20), a special Valentine's Day wreath has been hung on the Adoption Center door at the Bolingbrook Petsmart!
Each and every one of our kitties wish they had a Forever Family to share Valentine's Day warmth and loving with. Until they have that opportunity, would you cheer up one of our cats with a message of kindness. support and perhaps even a gift?
We encourage everyone who stops by the Bolingbrook Petsmart (159 N. Weber Road) to visit the Adoption Center and meet our homeless kitties who live there, looking for the chance to meet their new family. While you're there, would you be so sweet as to take one of the provided Valentines cards, leave a message for our kitties and then tie it to the wreath on the Adoption Center door? Nothing lifts a kitty's heart like knowing they're loved and supported while they're looking to find their Forever Family this Valentine's Day season!
While you're there, if you'd like to double the love for our kitties, you can purchase treats or cat litter and ask a Petsmart employee to set it aside for Humane Haven! As another way to help, you can make a monetary gift by visiting http://18.222.145.158/donate or donate something from our Chwey.com wishlist by visiting http://18.222.145.158/chewy
Humane Haven Animal Shelter is an all-volunteer organization. Without the support of people like yourself, Humane Haven Animal Shelter would not be successful in our mission of caring for and placing homeless pets with loving families.